Google Calendar SMS Text Reminders
Any business that works on an appointment basis like law firms, medical practices, realtors, hair & beauty salons, and spas faces the risk of late cancellations and no-shows of their clients or patients - either because they leave cancellations to the last minute or because they simply forget about their booked appointments. This can lead to significant revenue losses for your business!
Rezque Appointment Reminders synchronizes with Google Calendars to import all of your events. Rezque will automatically import names, emails, phone numbers, and any custom field you define.
Running a business is hard enough, so implementing software shouldn't be. Setting up Rezque is as easy as 1 - 2 - 3:
1. Create an account & import your Google Calendar
Log in with your google account, enter the company name, phone number, and your time zone and are YOU ARE IN! Importing your Google Calendar is one click - yes, you heard correctly - one click, and all your appointments get automatically imported into Rezque.
2. Create your reminder messages
Simply select one of your typical client appointments, and create a reminder message template (email or SMS). The best thing is, Rezque will automatically detect relevant information such as your client's first or last name, phone number, the appointment date & time and the appointment location so you can use this information when creating your personalized reminder messages.
3. Watch your No-Shows and Cancellations go down
That's it - now let Rezque do the rest and watch your no-shows and late cancellations go down and your utilisation and revenues go up.
Connecting With Google Calendar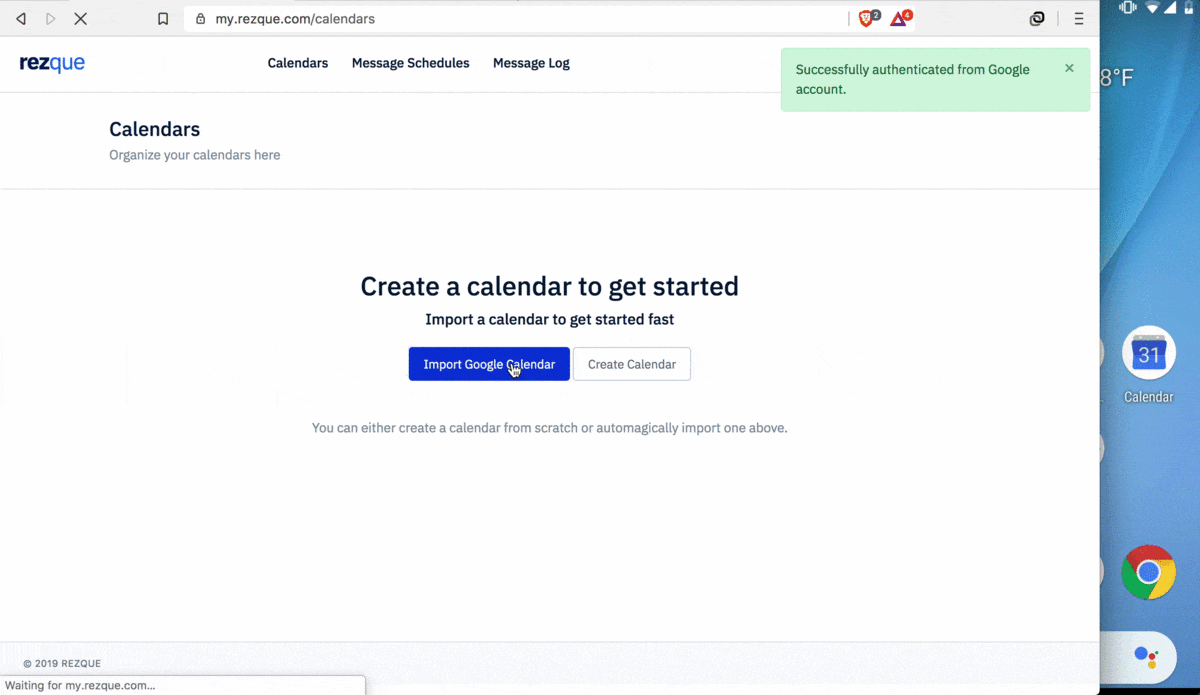 As long as your appointment attendee's contact details are present either in the title or description of the event, we'll extract all of the relevant data for sending appointment reminders.
Extracting custom fields

For custom fields, all you need to do is separate the key from the value with a colon and you can use it as a custom field in your message templates.
Sending group reminders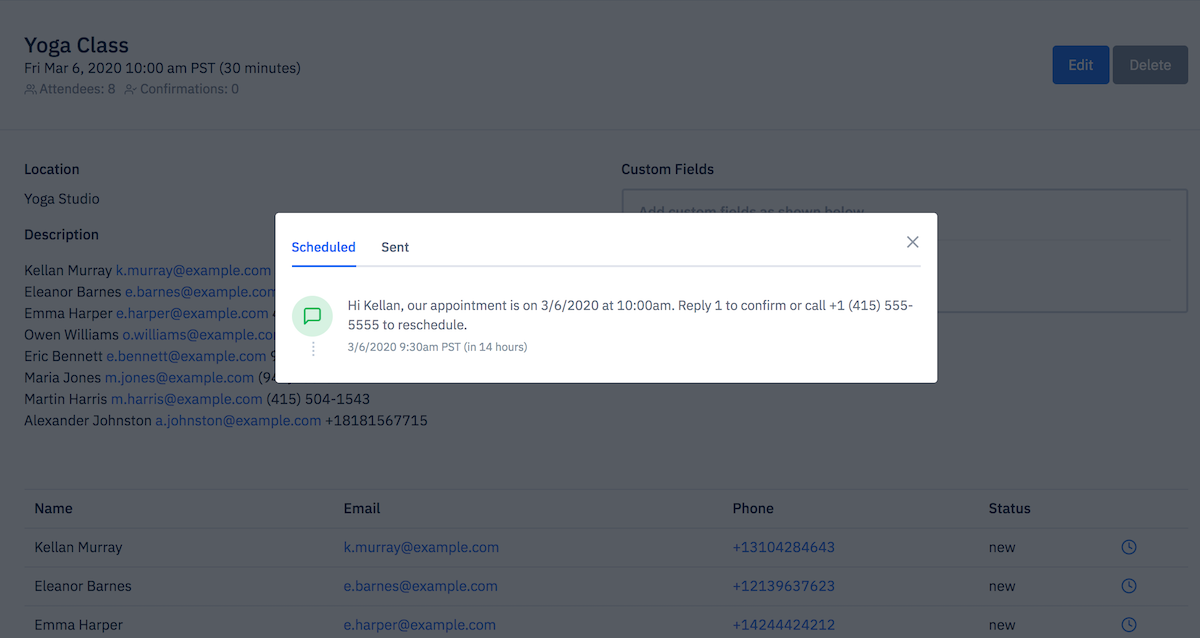 You can also extract multiple contacts from your event by simply adding a new contact in every new line in the description of your event. We'll automatically assign the appropriate name, email, and phone and you can create a template that sends personalized messages to each contact. You can view which event attendees have been reminded for their appointment and which attendees have confirmed.
Create Templates For Text Message Reminders For Google Calendar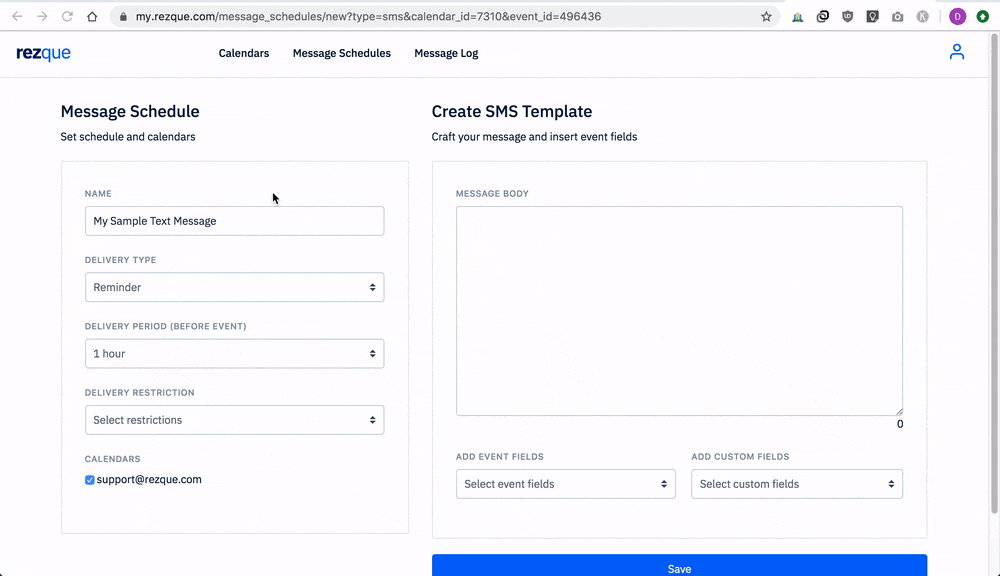 You can set custom schedules for your templates by defining when in advance to send the message, what time window to allow messages to be sent, and based on what conditions to send the message. Having granular control over how and when your messages are sent, your customers will be delighted to hear from you.
Although most booking tools these days have an SMS reminder tool available, they're often not customizable and you don't want to be sending messages in the middle of the night. If you're planning on sending SMS reminders, it's best to use a tool built for sending SMS.
Visualizing Text Message Appointment Confirmations
You have the option of having your customer's confirm appointmnets via sms text message by replaying with '1' or via email with the optional confirmation link provided in your message templates.
Once your contact has been reminded, your event title is amended with [R] so that you can see which appointments have been reminded. And when your contact has confirmed, your event title will be amended with [C] to reflect the confirmation so you have confidence that the likelihood of a no-show is low.
And since two-way synchronization is set by default, your Google Calendar will be updated instantly so that you know as soon as your contact is reminded or confirmed.
Google Calendar Text Message SMS Responses
When a reminded appointment responds to your SMS text message that isn't a confirmation, an email notification with your contact's information and response will be sent to you so that you can take note of any special requests made by your customer.
You can even communicate with your event attendee by simply responding to the email. With our Email to SMS feature, you can have 2-way conversations via SMS with your clients without being tied to one phone. This comes in handy when you have a team handling messages and need to share the option to communicate with clients with multiple office staff.
Product Walk-Through
Take a product tour with short and simple guides on every step you need to get set up.
Import personal appointments from Google Calendar
See how easy it is to import your appointments from Google Calendar to configure automated appointment text message reminders.
Import group appointments from Google Calendar
It's just as easy to import events with a group of contacts as it is to import one-on-one appointments. All you have to do is add more contacts to the description of your Google Calendar event!
Setting custom templates and schedules for SMS text appointment reminders
Create a template to send sms text reminders to your appointment attendees with custom fields and all custom schedules.
Email to SMS
Communicate with your appointment attendees vis sms text message at your convenience via email.
Rezque is the world's best service for appointment reminder text messages. We are sending email and SMS reminders for your Google Calendar appointments to ensure that you reduce your no-shows and late cancellations by sending Google Calendar text reminders. No shows and late cancellations are a significant business risk for any appointment-based businesses, such as doctors, dentists, veterninaries, lawyers, property agents, spas, beauty salons, hair salons, tailors, and many others. We offer a solution that allows you to reduce your no shows and cancellations with ease and increase your revenues and capacity utilisation by sending appointment reminder text messages and google calendar text reminders. Google calendar text notifications are a very effective tool to ensure that your business doesn't suffer from no show and late cancellation-related revenue losses.